It's finally started to snow for real, and my garden looks like a scene out of the Narnia movie - big, fat, fluffy snowflakes are whirling around in the air.

I finished my long suffering watercolour of Sprout's office, which I began working on ages ago for the challenge over on
hp_details. Well, here it is:

Title: Sprout's office
Characters: None
Rating: G
Media: Watercolour *___*
Challenge: Watercolour challenge
Notes: This started out as a piece for the challenge to do a drawing of a professor's office over on HP Details. I decided to do a watercolour, as I see Sprout's office as a kind of homely sun filled place, full of plants and the tools of gardening, and with the quiet slow feeling that seems to be always present in the world of plants. Watercolour is definitely not my strong point, and I've largely only used them in my art to add a little colour to drawings. This suffers somewhat from that, as well as from the effects of having been made in myriad 15-20 minute sittings - oh, the joys of work and parenting!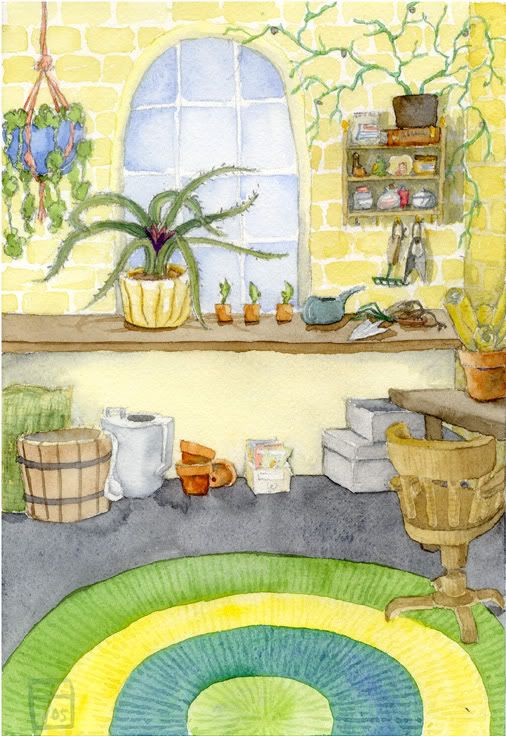 After finishing that off, I felt an overwhelming need to do something simpler - I seem to always fall into the trap of trying to over-control my watercolouring attempts. Anyway, inspired by the birch in my snow covered garden, I made a simple scene with Pigwidgeon and a snowman. I don't think I had much success trying to let up on the control though - lol

Title: Snowman
Characters: Pigwidgeon
Rating: G
Media: Watercolour
Challenge: Watercolour challenge
Notes: I'm reasonably happy with this one :)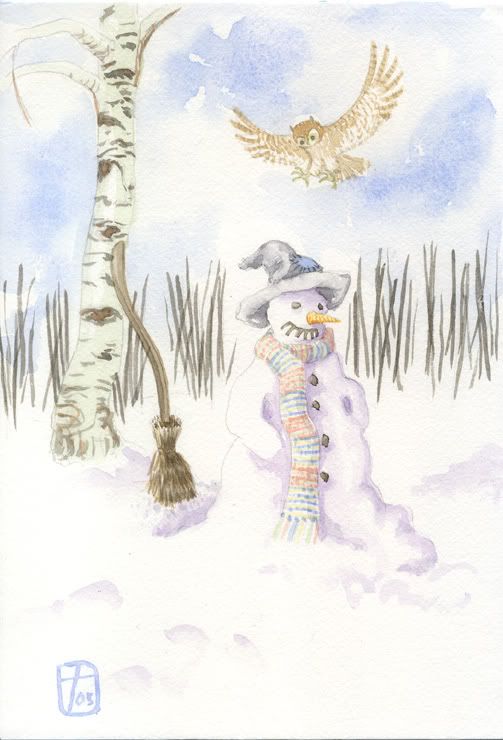 These will be x-posted to
hp_details and are also to be seen on my journal - I apologise if you get them multiple times...